Brazil News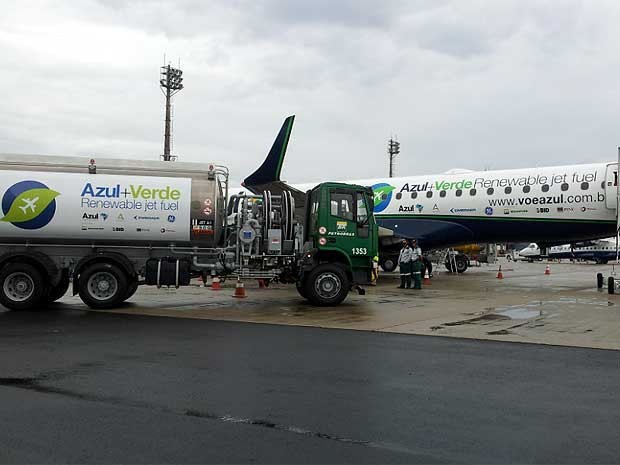 RIO DE JANEIRO – On Tuesday, the Brazilian airline Azul flew a passenger jet powered by a sugarcane-based aviation biofuel from São Paulo to Rio de Janeiro. This is the company's first flight using the experimental fuel, reported online media.

Aviation Biofuel Introduced in Brazil
The Brazilian-made Embraer 195 airliner carrying invited guests, left Viracopos International Airport in Campinas (SP), early Tuesday afternoon bound for Rio de Janeiro. Rio is hosting the Rio +20 UN Conference on Sustainable development.
Azul conducted the project "Verde + Azul" (Green + Blue) in partnership the renewable products company Amyris, Embraer and General Electric. The companies developed the renewable aviation biofuel to meet the need for performance equal to conventional petroleum-based jet aviation fuel.
Azul executives and business partners presented the project to journalists and guests at Viracopos in the morning. The test flight departed from the Campinas airport at 12:40 pm bound for Rio de Janeiro using 4,500 liters of bio-kerosene mixed with common aviation fuel.
Competitor Gol Airlines also used aviation biofuel for the first time on Tuesday, departing from Congonhas Airport in São Paulo also bound for Rio de Janeiro.
According to Mother Nature Network, on Monday, Air Canada's first ever flight using aviation biofuels headed from Toronto to Mexico City, in an effort to showcase the aviation industry's global commitment to greener transportation
The Airbus 319 used recycled cooking oil and jet fuel for the journey, which the aircraft maker says could cut carbon dioxide emissions by more than 40%.
According to Wikipedia, Aviation biofuel is a biofuel used for aircraft. Aviation biofuel is widely considered by the aviation industry to be one of the primary means by which the industry can reduce its carbon footprint.
After a multi-year technical review from aircraft makers, engine manufacturers and oil companies, biofuels were approved for commercial use in July 2011. Since then, multiple airlines have begun the use of biofuels on commercial flights. The focus of the industry is on second generation sustainable biofuels that do not compete with food.