Brazil News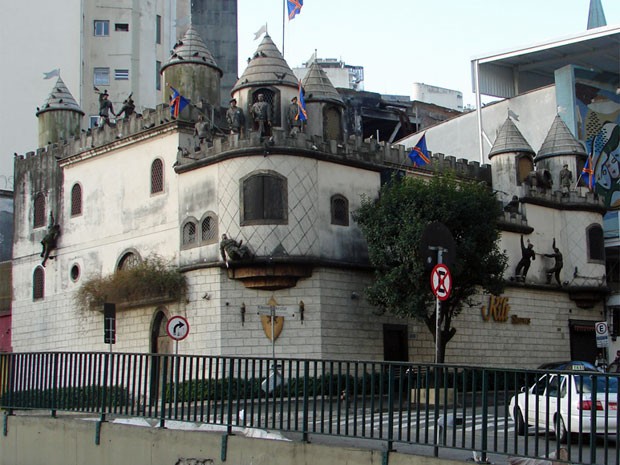 SAO PAULO – Kilt Nightclub, an iconic fixture in downtown Sao Paulo for over four decades, closed last month and fell to the wrecking ball this past weekend. One of the most notorious nightclubs in the city, Kilt – which occupied nearly 6,000 square feet in a building styled after a Scottish castle – featured erotic shows, a samba school, striptease and dance shows. Mostly, though, the club was a place to meet working girls – hundreds of whom worked at the club on any given night.

Kilt, Iconic Sao Paulo Nightclub Torn Down
The City of Sao Paulo took ownership of the property through eminent domain to make way for a traffic roundabout, as it renovates Roosevelt Square. Club owner Tania Maciel lost a prolonged court battle with the city last month, which resulted in the club being torn down. Maciel hopes to reopen the club soon just down Nestor Pestana Street, at number 189, now occupied by a hotel.
In a recent interview, with the newspaper O Estado de S. Paulo, owner Maciel said that the club opened on Jul. 27, 1971 with only 50 square meters (538 square feet) of space. "At first, I was caretaker, receptionist, cahier and waitress. [I] loaned clothing to the girls to get them to come the next day. I remodeled every two years. I fixed the sidewalk. I was deaf because of the sound, and I developed back pains from wearing high heels. All this must be taken into account," she said, when calculating a "fair price" of compensation.
She said that the nightclub always faced criticism, and yet it was a place like no other. "It was more like a marriage agency. You do not know the number of girls who married Formula-1 drivers and sent me photos of the family in front of Buckingham Palace. I can guarantee that prostitutes are not as bad for society as the crack heads and drug dealers who frequent the area."
Over the years, Maciel faced indictment four times. "About 15 years ago, there was a police chief who made a report in Latin and quoted passages from the Bible. He swore that he would close all the brothels in the city, until one day, at a hearing the judge saw that most of the people in the courtroom knew me, and knew me well."
Asked why Kilt became so famous, Maciel told the interviewer "I dated the president of the republic! And many famous people frequented Kilt: Michael Douglas, P.C. Farias and Gene Simmons of Kiss."
Last weekend, while wrecking crews demolished the nightclub, Fred Camilo, 60, sat on an old magazine in Roosevelt Square watching. Fred tended bar at the iconic spot for 30 years, putting two daughters through college. "When you see your world, a life, collapsing like that, so very said, it is very complicated," he told the newspaper O Diario de Sao Paulo.
A number of people passed through Roosevelt Square Sunday afternoon, to take pictures of what remained of the old "Castelinho," or Little Castle, as people fondly recalled it. "I got to go once with a girlfriend because she was curious. They could not keep up the building and turn it into something else?" lamented filmmaker Luiz Adriano, 50, to O Diario.
Business person Claudio Roberto, 49, never went to the club, but he also expressed a wish to keep the building standing. "It was part of the history of the neighborhood," he opined to O Diario.