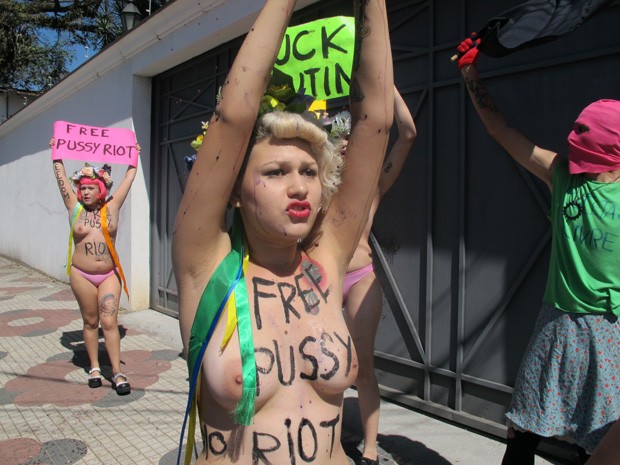 SAO PAULO – Police arrested three members of the feminist group FEMEN around 12:45 p.m. Wednesday after a protest at the Russian consulate, reported online media. Wearing only panties and carrying placards, with slogans painted on their semi-nude bodies, they cried out for freedom of a punk girl group jailed in Russia.

Sao Paulo FEMEN Protesters Arrested
According to police, the women also defaced the Russian consulate building, in Morumbi, in the south of Sao Paulo, throwing paint on the building.
Police on the scene characterized the group's behavior as "obscene" and said they caused property damage. Tourist police arrested the women. They said they would release the protesters after they signed the complaint against them.
The protest lasted less than 10 minutes. The women screamed their slogans in Russian, demanding freedom for the members of the Russian punk band Pussy Riot. Police did not arrest them, however, until they threw paint on the consulate building. Police took the women by force after they resisted arrest.
"It was like Ukraine and Russia: violent. We are bruised, grated. Once we leave the precinct we will organize another protest over freedom for the Russian band," Sara Winter, one of the detained FEMEN protesters, told G1.
Police also arrested two other women sympathetic to the cause – but not members of FEMEN – who had joined the protest.
Pussy Riot
The feminists say that they protested this afternoon at the Russian Consulate in aid of the punk band Pussy Riot. Police in Moscow arrested three members of the group in February after they sang, inside the Cathedral of Christ the Savior, a "prayer" against Vladimir Putin.
Other FEMEN stories:
Topless Feminists Face Indifferent Crowd
Russian patriarch visits Poland