Brazil Dog News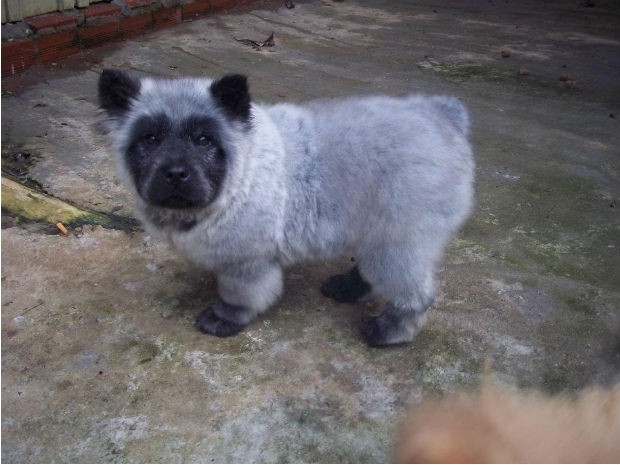 CURITIBA, Brazil – An unusually colored chow-chow born four months ago in Brazil is causing excitement among dog lovers around South America. The chow-chow is gray with black paws and muzzle and resembles a panda. The six other pups in the litter are either brown or black.

Chow-Chow Panda Puppy born in Brazil
"I've never seen a chow-chow this color. Indeed, this is a very special dog. My friends say he is a miracle," Rosymeire, who started breeding ten years ago, told G1. She said photos of the puppy she posted on social media sites have become very popular. She posted the pictures a week ago Sunday.


Seach for 'chow-chow' on amzon.com

Since posting the photos she has received several proposals from people interested in the dog, including an Argentinian designer who offered $1,500 for the panda-dog. "We're still negotiating," said the breeder. Other puppies from the same litter already sold for prices ranging from $400 to $500.
The four-month old pup is the result of crossing a golden-colored male with a black bitch. "I think he should have been one of these colors. It is rare to have one born this color," said the breeder.
Dog show judge and member of the São Paulo Chow-chow Association, Gloria Espejo, is of a different opinion. She looked at the photos and opines that the puppy could not be considered a legitimate pure breed chow-chow. "There are a number of features in it such as the nose, tail and even the gray coloration showing that he is mixed-race," she said.
Veterinarian Célia Regina Takaoka explains that dogs of this breed are black, reddish-brown, cream or tan. "I've never seen a dog [chow-chow] with this color scheme." She hypothesizes that the bitch mated with a dog of another breed.
Mestizo or not, the dog has won the heart of Rosymeire's daughter, Amanda de Paulo. She is begging her mother to keep the puppy. "I'm trying to get her not to sell him. Everything about him is unique. I want to keep him," said the girl, who has dubbed him "Panda."