Brazil News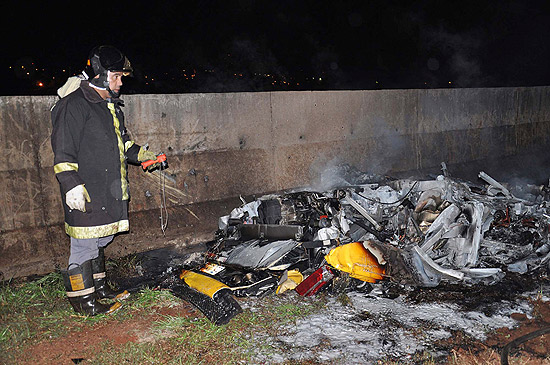 SAO PAULO – An executive from Bauru in suburban Sao Paulo died, and his 2009 Lamborghini Gallardo burned to ashes late Tuesday night, reported Brazilian online media. The aftermath of the accident, which occurred on the Marechal Rondon Highway, 287 kilometers from the City of Sao Paulo, appeared on video uploaded to YouTube.

Lamborghini Gallardo Burns, Driver Dies
Police say that witnesses heard a noise that sounded like a tire blowing and then saw the car, belonging to Fabio Aguiar Fasano Meireles, 30, a Sao Paulo business executive, flipping over and exploding in flames. The driver died instantly and the car disintegrated and burned, leaving a small pile of ash and debris.
The crash destroyed vehicle, valued at one million reais (about a half million dollars) and killed the business executive at the scene. According to the Highway Patrol, the luxury sports car's speedometer could have shown the speed of the automobile at the time of the crash, but it also perished in the fire.
Highway Patrol closed the roadway during the early hours Wednesday, until workers removed the remains of the car and driver from lanes. A cellphone photographer recorded images of the fire and posted it to the Internet.
Meireles belonged to a well-known family in Bauru (329 kilometers from the City of Sao Paulo), where his grandfather lives.