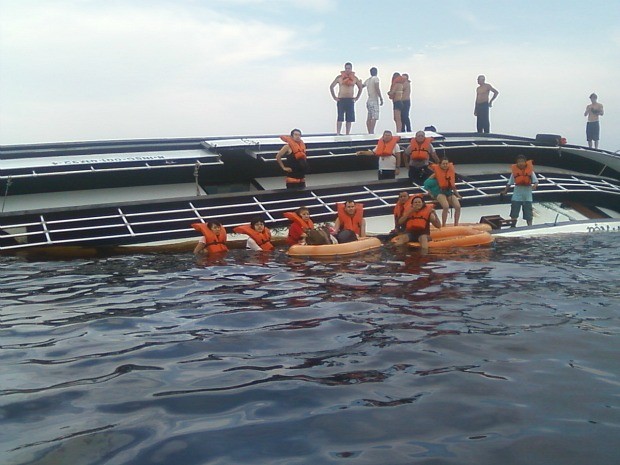 RIO DE JANEIRO – A tour boat with 45 people aboard, including 39 Brazilian and foreign tourists, capsized Friday afternoon on the Rio Negro, in the Amazon, reported online media. The tour boat had departed from the Ariau Amazon Towers Hotel, the largest hotel complex in the Amazon, 40 kilometers (about 25 miles) from Manaus, the capital of Amazonas state.
Tourist Boat Sinks in the Amazon
According to Second Lieutenant Julius Leite, of the Port Authority, who monitored the search and rescue operations, the boat capsized and partially sank around 4 p.m. local time, about one kilometer (3,281 feet) off Moon Beach, near the capital. Rescue workers have accounted for all 45 passengers and crew.
At the time of the accident, the area where the wreck occurred experienced severe rain and strong wind gusts. Teams of firefighters with boats and helicopters, assisted by paramedics and the Navy participated in search and rescue operations.
Rescuers took victims to the pier at the Hotel Tropical, in the Ponta Negra district of Manaus, and the Davi Marina, where they received first aid. They took six people to area hospitals with minor injuries.
Known internationally for hosting celebrities, businesspersons and senior government officials, the Ariau Amazon Towers Hotel, wedged in the heart of the Amazon rainforest, attracts the ultra-wealthy. Microsoft founder Bill Gates, former U.S. president Bill Clinton, American actress Susan Sarandon and film director Roman Polanski, are just some of the globally known personalities who have stayed at the hotel.