Brazil Travel & Tourism News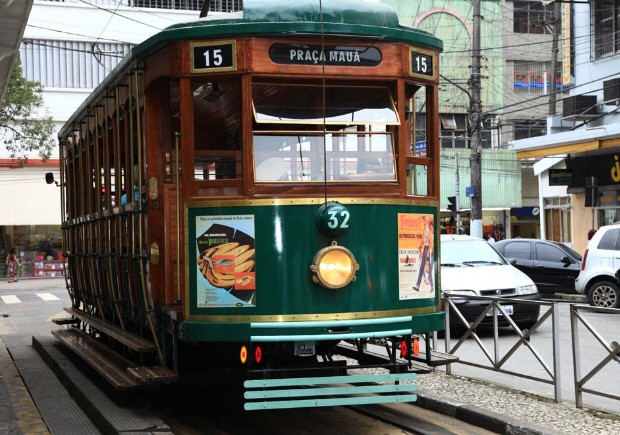 SAO PAULO – Streetcar No. 32, 101-years-old and operating in the center of Santos, on the Sao Paulo coast, is the oldest in Brazil. Recently restored, appearing as if it just arrived from the Scottish plant that manufactured it a century ago, the tram ferries tourists and locals alike to historic locations in the city center.

Santos' Historic 101-Year-Old Streetcar No. 32
Employees of the city's Traffic Engineering Division put the century-old streetcar through a thorough restoration. The engineers and mechanics strove to preserve the car's unique characteristics as they would have appeared prior to the 1950s.
Marcos Rogerio Nascimento, the engineer responsible for the work, told G1 that the tram is part of the third batch of vehicles that arrived from Scotland in 1911. During the 1950s, some characteristics of the coach changed during its first overhaul.
In 2000, Nascimento worked to return the streetcar to use, restoring the motor but without regard for the esthetics of the car. In 2009, suffering structural deficiencies, streetcar No. 32 retired once again.
After they had retired the vehicle from circulation, the city decided to restore it to its original form. The engineers began a study of the historic streetcars that existed in Santos. Eventually they found photos from the 1950s in the city archives, which served as a basis for the makeover.
The eight professionals responsible for restoring the tram used the old photos to ensure the work resulted in a historically accurate restoration. To fix the structural problems, they dismounted the coach from the frame.
"We had to learn how things were done at the time. The mechanical and electrical parts are products of the late 19th century. We used all the ancient ways and techniques in reassembly to maintain the tram as a living museum," Nascimento said.
To complete the illusion of time travel, they affixed vintage advertising posters to each end of the streetcar. The advertisements are identical to those from years gone by and are removable. "People are telling is that the streetcar brings an air of nostalgia," added the engineer.
The historic streetcar operates from Maua Plaza Tuesday to Sunday from 11 a.m. to 5 p.m. The fare is $5 reais (about U.S. $2.50). Seniors over 60 and students with student ID get a 50 percent discount.
Related stories:
Famous Leaning Highrises of Santos
Santos Municipal Orchidarium Reopens
Railroad Lover Documents Brazil's Stations