Brazil Celebrity News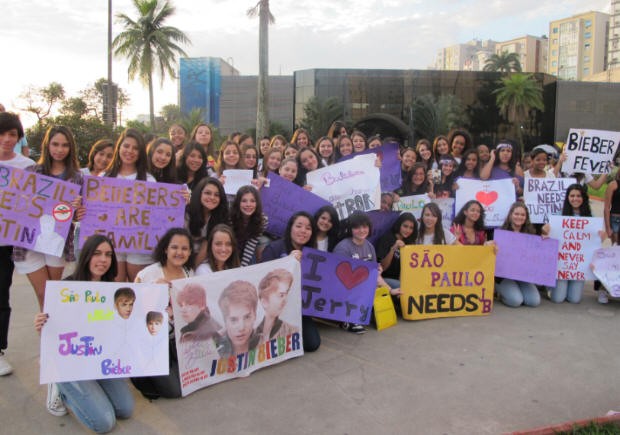 SAO PAULO — About 70 Justin Bieber fans met Sunday afternoon in Santos, on the São Paulo coast, to ask the Canadian singer to visit Brazil. The girls — and some boys — made videos that they hope will entice the teenage heartthrob to add Brazil to his latest concert tour.

Justin Bieber's Brazil Fans Launch Campaign
Fans organized the event, which took place in front of the Municipal Aquarium, through the internet. They gathered to record videos of themselves singing their idol's songs, which they will post to social media in the hopes that Bieber will see them.
"We will merge our images with videos made by other girls in Brazil. The goal is to gather as many fans as possible and post the full video on Twitter," 15-year-old Amanda Neves told G1.
With the video, the girls hope to entice the pop-star to bring his "Believe
" tour to Brazil. As long as you love me, Die in your arms, Boyfriend and Take you, are some of the favorite songs of the Santos fans.
"The 'Believe' CD is the best of his career, it shows the singer in a more mature phase," said student Vitória Silva, 16.
For the next meeting, the Justin Bieber fans want to visit the nursery of a hospital. "Let's follow his example of helping others and doing good. Let's call it 'Operation Smile'. It is a way for fans to interact and practice good deeds," said Amanda Sucigan, 15.
The parents support the girls and go with their children to all the fan events. "I went to the show with my 12-year-old daughter. I go with her to all the meetings. I just remember the old days, when I was a fan of Menudo, the Justin Biebers of the era," jokes merchant Paulo Sergio de Lira.
Rosimeire Menezes, mother Raisa Menezes, 13, admits that she came to enjoy the music of the her daughter's idol. "I hear so many of Justin Bieber's songs, I just like it by osmosis," she says.
Earlier this year, Bieber's girlfreind Selena Gomez
, 18, performed in Rio de Janeiro and São Paulo. Read the story here.