Brazil News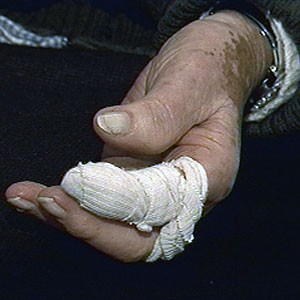 PORTO ALEGRE, Brazil – Police in Southern Brazil will charge an elderly woman with murder after she shot dead a man who invaded her home on Saturday, reported online media. According to her family, the 87-year old pensioner thought the intruder came to rob her.

Women faces murder charge after shooting burglar
Odete Prá shot the man three times after he invaded the modest apartment where she lives alone. The man was inside the apartment when Odete shot him, but had not taken anything.
Police say that they have to charge her because the homicide actually occurred. They say that it will be up to prosecutors and a judge to rule on the claim of self-defense and decide whether the case goes to trail.
According to the woman's family, she shot to defend herself because the dead man threatened her. Police did not take Odete into custody and she will remain free for the time being.
Police say they have not identified the dead man, but the believe he had a criminal record. "If he is the person we think – a guy with a two-page criminal record – he was very dangerous. She did the right thing." the investigator told G1.
Still, according to the detective, they still have to charge Odete since she had a weapon and killed a man with it. Apologetically, he says they have no choice.
The woman's family says that she had the loaded .32-caliber revolver for 35 years. "We didn't think the gun would still work, nor did we think she would be able to shoot it if it did. She is a very fragile woman," her daughter told G1.
The daughter went on to say that her mother was home alone, asleep, when a guy about 30 years old came into her room on the third floor of the building. The man climbed in through an open window from the roof of a school next door.
Without the intruder knowing it Odete got the gun, which she had kept in her closet for more than three decades, and crept up behind him. When he became aware of her, he asked her to open a door so he could escape, but she didn't have the key to that door, since she never uses it.
After that, the daughter says, he acted like he was going to beat her. "He was nervous, his voice changed, he looked at her with a very ugly face. She thought 'now it's him or me' and she shot."
The first shot hit him in the chest, and he fell to the floor. She shot two more times but missed. He was already dead, though, when police arrived. Paramedics arrived on the scene quickly but were not able to resuscitate him.
"It seemed like a nightmare, I didn't think was really happening," Odete told G1.
Odete is staying at home, resting and recuperating and she has no plans to move after the incident. She says that the apartment is her "convent." A religious woman, she prays half of each day for world peace. "How ironic is that?" asked her daughter.