Brazil News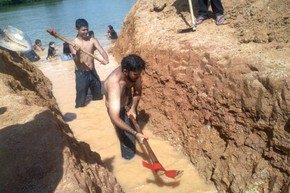 BELEM, Brazil – About 300 Indians and environmentalists protested on Friday morning against construction of the Belo Monte hydroelectric dam in Altamira, Pará. The demonstration occurred on top of a cofferdam, a kind of earthen dam, built on the Xingu River by the Construction Consortium of Belo Monte (CCBM).

Belo Monte Construction Site Occupied
The Indians used pickaxes to open ditches in the cofferdam, allowing the river to flow through the works, which is still incomplete. They also planted seedlings and fixed in place crosses, hoes and shovels, to symbolize the area's indigenous and river community's discontent over construction of the facility.
Although the protesters occupied the construction area, a CCBM official said that the building consortium will not comment on the protester's occupation of the cofferdam. The spokesperson did say that the occupation will not affect the construction work, since Belo Monte's main construction area is about a mail away from where the protesters are.
Northern Energy, the company responsible for building and operating the Belo Monte hydroelectric plant, said it believes the protests that occur near the cofferdam are opportunistic actions that aim to call attention to the project because of the environmental conference Rio +20. He also said that Belo Monte is an example of clean and renewable energy production.
The consortium is constructing the Belo Monte Hydroelectric Plant on the Xingu River at Altamira, in southwestern Pará, at an estimated cost of U.S. $10 billion dollars. The project has strong opposition from environmentalists, who consider the impact to the environment and traditional indigenous and river communities in the region as irreversible.
Belo Monte also faces criticism from the Federal Public Ministry of Pará, which claims that the compensation offered to those affected by the project fell short of being adequate and that this could create social problems in the Xingu region.